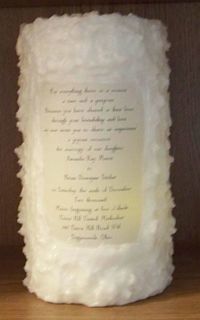 "Simple Elegance Candle"
This has a candle inside a hollow candle and glows to show your invitation. We have been making this candle for over 40 years. This was originally designed by "Der Candlemaker" Ferrell Knotts.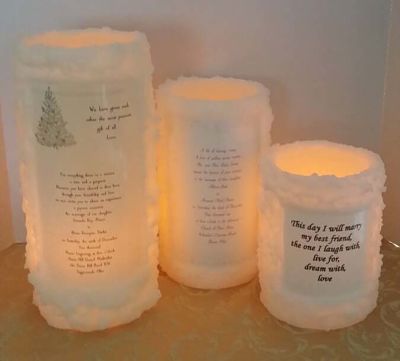 It comes in three sizes
6" tall and 6" wide.....$36.99 plus S&H
9" tall and 6" wide.....$39.99 plus S&H
12" tall and 6" wide.....$49.99 plusS&H
we also can custom size it between 10" and 12" depending on the size of the invitation.
Add $2.00 if you would like to have two sided candle
Turn around time is about 2 weeks plus shipping


You can email us your invitation at apps@roadrunner.com or you can mail it to us.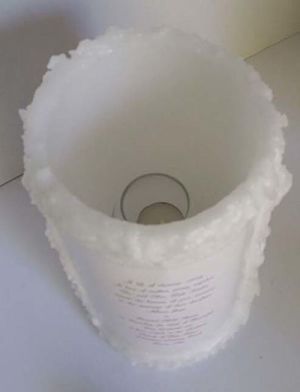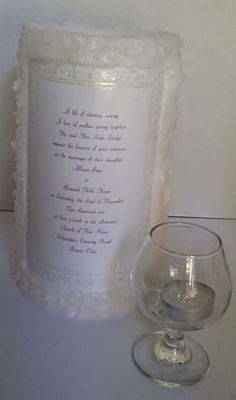 Special



We can also put the picture of the bride and groom
or picture of bride and groom with parents on the candle.

Buy 2 and Save 15% - 9" tall - for $67.98 plus S&H.


SO you save on shipping too!




You can mail your invitation to:
1844 Gordon RD NW
Dover, OH 44622
Please send 2 invitations (if you only have 1 that is fine, we will scan it before we start your candle in case of a problem) and include an email address so we can send you a tracking number







When mailing invitaion

Please include check or best way to contact you to get your credit card information or what email to send a paypal invoice






Guidelines for ordering Simple Elegance Candles





1. We can only attach the thickness of a single sheet of card stock paper.
If your invitation is multiple layers or thick please send a color copy on card stock.
Please remember if you request original invitation instead of a copy the thickness of the invitation will be a factor in how much light shows through the invitation.

2. Size of the invitation.
On a 6" tall candle the maximum height is 4 ½'

On a 9" tall candle the maximum height is 7 ½"

On a 12" tall candle the maximum height is 10 ½"

3. Remember that if you would like to have two sides put on they can not be wider 5 ½" wide.



Please note S&H above is just for lower 48 states of United States. Please contact us for Hawaii, Alaska or other country
""
Looking for just the unity wick™. If you have a unity candle that has a tea light insert you can use our special wick for only $9.99 free shipping.
We are a custom candle company. All of our candles are hand poured and made just for you.
Because they are hand poured heights may differ.

If you have an idea for a special occasion candle, let us know and we will do our best to make your candle with your design.


Be Unique Candles
Have your candle in your favorite color and scent. Made with Beeswax and soy wax for great burning candle.


Unity Candles
"And the two shall become one" Many different unity candles. Double and Single wicks


Wine Scented Candles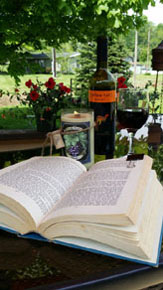 Relax!
Our candles will appeal to all your senses. The romantic glow of the candle and the wonderful aroma.




Engraved Glass with Candle

100% Soy wax.

from 2"x2" up to 6"x6"x6" Square candles in soy and paraffin wax

made with our special formula of wax that looks like whipped wax, but much harder.
Body Lotion & Massage Oil Candles
Pamper Yourself
Our candles will appeal to all your senses. The romantic glow of the candle, the wonderful aroma and then the warm oil on your skin.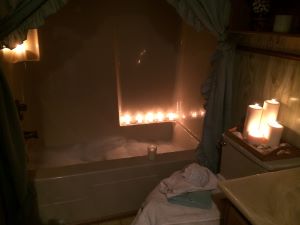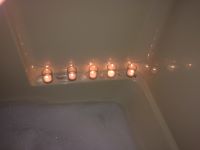 If you are needing a large quanity of candles for a special occassion, please allow 1 week plus shipping time for every 100 candles you need.
Except for the 5" x 5" and 6" x 6" square candles, we only make 12 to 15 of these candles a week, because of the setup time involved.
SO PLEASE ORDER EARLY!
Large Custom Orders are ALL SALES FINAL.
Please remember colors can not be guaranteed to be same shade(about 15 to 30 the same color depending on size). We are constantly adding wax to our melting vats and the colors change.
If you have a certain color to match your wedding please send a color sample and we will try to match it.



We DO NOT Issue any refund or credit for color.
We offer money back if you do not like your candle. Shipping and Handling is not refundable. Also if item is personalized must be approved before returning.
All custom orders require a non refundable deposit.